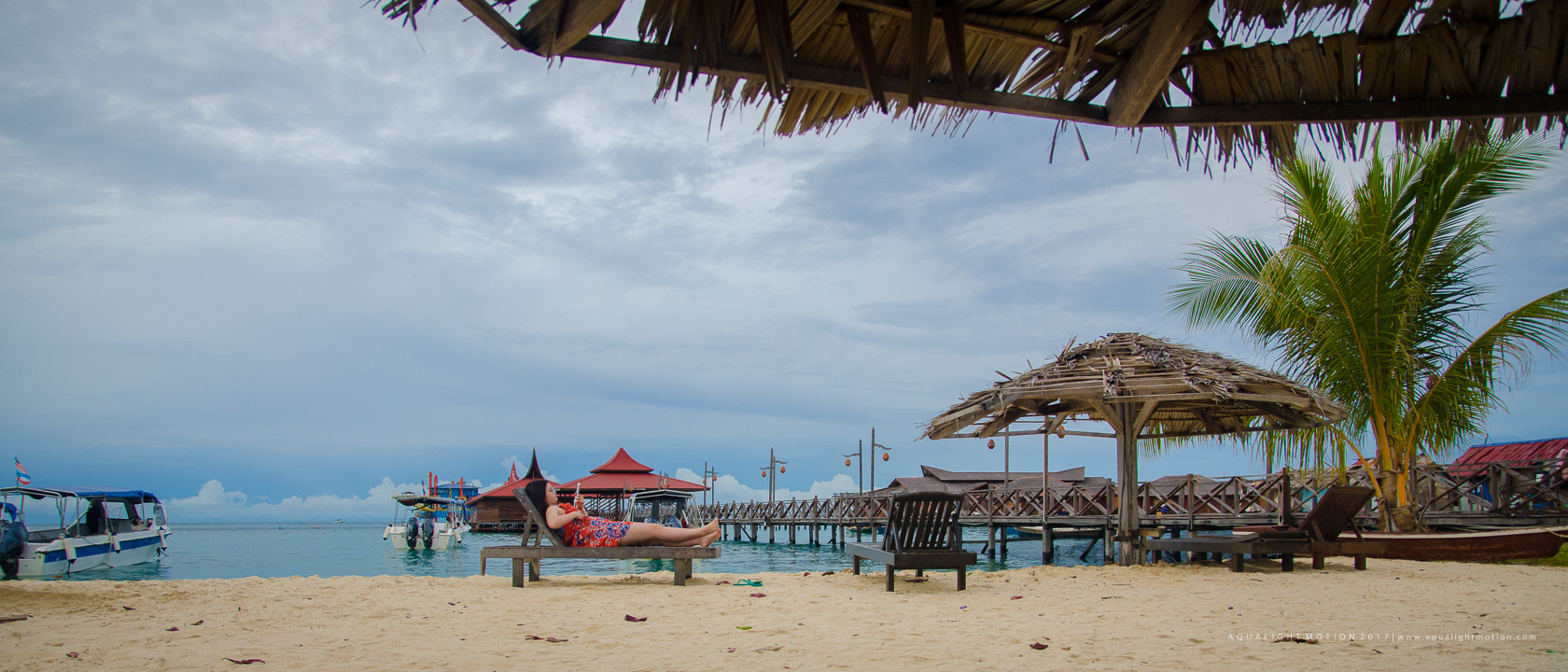 Mabul Island
Mabul Island is a popular place to stay for travelers that plan to dive at one of the worlds' best dive spots; Sipadan Island. Before the resorts at Sipadan Island were closed due to conservation efforts, Mabul was not visited much. Nowadays it is probably the most popular island to stay overnight because of its close proximity to Sipadan. The island is also quite popular because of the affordable accommodation on and nearby the island. Resorts at other islands in the Celebes Sea, like Kapalai and Mataking only offer very luxurious overnight stays. There are two small villages on the island, where around 2000 local Sea Gypsies (Bajau Laut) live. The local villagers rely on both fishery and tourism. There are no roads on the island; all transport is done by boat. Because Mabul Island is inhabited, the island is less pretty than nearby islands like Kapalai and Mataking. However if you venture out to the more secluded areas, you will find some truly fantastic beaches.
Diving at Mabul Island
Though many visit the island to catch a glimpse of its neighbor Sipadan, Mabul Island is widely recognized as one of the best muck diving spots in the world (it is a macro diving paradise). Those who have visited the islands in this area would say: 'Sipadan for the big formations, pelagic species and turtles, Mabul for the most interesting small marine life like nudibranch, gobies, cuttlefish, frogfish and scorpion fish'. There are a few dive schools on the island, all of them offering dive trips around Mabul, nearby Kapalai and of course at Sipadan.
Accommodation at Mabul Island
Contrary to the other islands in this region, Mabul Island offers several places to stay. There are resorts for every type of traveler; ranging from basic accommodation to luxurious water bungalows and private water villas. People that like some luxury during their stay should visit either Sipadan Water Village Resort (at Mabul Island) or Mabul Water Bungalows. Cheaper places to stay are Sipadan Mabul Resort, Mabul Beach Resort, Mabul Dive Lodge and Borneo Divers Mabul Dive Resort. Noteworthy is the former oil rig at the open sea that was converted into a resort; Seaventures Dive Resort. There also are a few backpacker lodges, with affordable rooms. Downside is that apparently those resorts get less daily permits to dive at Sipadan, compared to the more luxurious resorts at Mabul.
How to get to Mabul Island
To get to Mabul Island you first need to take a flight to the coastal city of Tawau. There are daily flights operated by Malaysia Airlines and AirAsia from Kuala Lumpur (and Kota Kinabalu) to Tawau. From Tawau Airport you can either get a taxi (around RM100+) or a bus/minivan to the village of Semporna, a 1,5 hour trip through endless palm oil plantations. At Semporna harbor boats to the neighboring tropical islands depart. The speedboat ride to Mabul takes about 30 minutes. If you make reservations at one of the resorts at the island, then often your package includes an airport pickup, the trip from Tawau Airport to Mabul (via Semporna, including the boat ride).
Things to do in Mabul Island
It doesn't matter if you're planning a laid-back family holiday, romantic getaway or diving trip, you'll find plenty of activities and things to do in Pulau Mabul suitable for all age groups
Bajau Laut (Sea Gypsies) Village
Any trip to Mabul Island will not be complete without a visit to the island's Bajau Laut village, home to the legendary 'Sea Gypsies'.
Famous for their nomadic, seafaring way of life, they live mostly in houseboats or wooden stilt houses built over the ocean.
The Bajau Laut are a friendly and welcoming people – if you're lucky, you may even be offered some purple seaweed or fresh coconuts during your visit.
Snorkeling
Snorkeling in Mabul is a great way to observe marine life in a natural setting.
Day trips to Kapalai or world-famous Sipadan, both located 15-20 minutes by speedboat from Mabul, may also be arranged by your resort or dive operator.
However, Sipadan Permits are required before any snorkeling or diving trips can depart for the island due to the government's environmental protection policy.
Scuba Diving
Diving is the main activity on the island, though you do not have to stay here in order to go snorkeling or diving. In fact, many visitors prefer staying in Semporna, where hotels and day trips are generally cheaper. Diving in Mabul is entirely different from what one would normally experience in Sipadan, where it's all about big fishes and vertical coral walls.
Mabul is known as one of the world's best muck diving destinations – any opportunity to dive here should not be missed.
Sunrise & Sunset
Sunrise, sunsetMabul is located in Sabah, the first Malaysian state to witness the golden rays of the sun every morning, at about 5.45am.
It's an early wake-up call, but the reward is well worth it. Join the villagers as they prepare for the day ahead or settle down in your chosen spot at the end of the day to experience sunrise or sunset in Mabul.
Tun Sakaran Marine Park
If you ever find yourself in the area, be sure to drop by Tun Sakaran Marine Park, where a world of intoxicating beauty awaits.
Comprising 8 islands and 2 patch reefs, the amazing biodiversity of Sabah's second largest marine conservation area was found by representatives of the U.K.'s Marine Conservation Society to be on par with Australia's Great Barrier Reef.
The main attraction of the marine park is Pulau Bohey Dulang, one of the most visited and photographed islands in the area.
Milky Way
The Milky Way galaxy lights up Mabul's sky at night, providing a scenic backdrop visible from most parts of the island.
If you love stargazing or time-lapse photography, then this live, 5-day Mabul weather forecast can help you see if there is a clear night in the near future, so that your chances of catching the Milky Way can be maximized.
Island Hopping
Going island hopping in Sabah is one of the best ways to discover the coastal beauty of this region.
Day tours may be arranged (from Semporna town or Mabul) to many of the nearby islands.
Apart from Sipadan and Kapalai, those who wish to venture further out may visit other islands including Bum Bum, Pom Pom, Mataking and Tun Sakaran Marine Park.
Regatta Lepa
Festival SempornaIf you're making your way over to Pulau Mabul in April, do remember to check out the annual Regatta Lepa festival, which takes place in Semporna.
Non-stop celebrations lasting 2-3 days pay homage to the culture and traditions of the Bajau Laut, who come from all over Sabah to take part in this popular water festival.