DIVE BUDDY (M) KINI BEROPERASI SEPENUHNYA DI PULAU PERHENTIAN
Pusat selam berkembar DIve Buddy Malaysia kini beroperasi sepenohnya di Pulau Perhentian. Lebih dikenali sebagai Pondok SCUBA atau Pesantren Alam Selam ianya dilengkapi dengan kemudahan selam SCUBA yang berkonsepkan mesra alam yang menawarkan harga patut bagi pakej kursus/aktiviti selam dan percutian pulau.
Kedudukan Pusat selam dilokasi strategik yang kerap menjadi tumpuan aktiviti latihan selam SCUBA, snorkeling dan aktiviti riadah pantai bagi pelancung tempatan dan luar negara.
Berkonsepkan mesra alam, Dive Buddy Perhentian dibangunkan dengan struktur binaan berasaskan bahan semulajadi bagi mengekalkan keindahan persekitaran alam semulajadi.
Berdekatan dengan Kampung Nelayan, Pulau Perhentian Kecil.
Juga dikenali sebagai kampung nelayan, ia nya merupakan destinasi wajib dilawati jika berkunjung ke Pulau Perhentian. Perjalanan dari Teluk Keke dengan menaiki bot kecil atau lebih dikenali sebagai teksi air hanya mengambil masa 10 minit. Anda boleh mendapatkan bekalan barangan harian dan juadah makanan tempatan dengan harga patut.
Pusat selam dilengkapi dengan pelbagai kemudahan asas seperti bot laju, kelengkapan dan peralatan selam SCUBA, Compressor untuk mengisi tabung angin yang boleh menampung lebih 20 penyelam pada satu masa.
Galeri Dive Buddy Perhentian
Gambar foto premis pusat selam, kemudahan asas, aktiviti serta persekitaran lanskap laut & pantai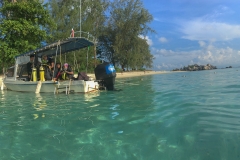 Dive Buddy Perhentian shore front
View of our dive center water front, beaches and surrounding landscapes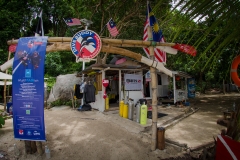 Dive Buddy Perhentian Facilities
2017 has been an exciting year for us at Dive Buddy (M) with the official launching of our island based dive center at Teluk Keke, Perhentian Island. Located strategically in the bay of Perhentian Besar, Teluk Keke is widely known among locals and tourists as the most popular snorkeling and island campsite destination.

Our Perhentian island dive center operation is fully backup with dive boats, complete sets of scuba/snorkeling gear rental, SCUBA tank refill stations that may cater up to 20 divers on each boat trip out to any of Perhentian top dive sites.