SWIM SAFER WITH OUR RANGE OF LESSONS
Before you learn to swim, flotation devices such as kick boards, floats or inflatable armbands come in handy to stay afloat, and enable you to focus on practicing your stroke technique. When you are able to swim without any assistance and want to proceed to better timing and technique, it's advisable to change to other devices which add resistance exercises to your workout, to help in toning up and becoming more muscular.
Our learn to swim lessons include the use of fins, which are fitted on the feet to aid in training and also help you swim faster. Hand paddles help propel your arm strokes further ahead as they move more water. Your arms and shoulders also get an additional workout thanks to the extra resistance in the water.
When it comes to types of strokes, the three most popular ones include free-style, breast-stroke and back-stroke. Free style is a universal favorite as well as the easiest to learn, whereas breast-stroke and butterfly strokes are tougher to ace, but remain popular for active swimmers. As well as teaching children how to swimsafer, these lessons have their advantages for mothers-to-be. Exercising in water goes a long way in reducing joint stiffness and discomfort that comes with pregnancy, and also aids in strengthening abdominal and shoulder muscles.
Those who have undergone surgery or injuries also stand to benefit through aerobics, as all the main muscle groups are given a good workout, without the additional strain/impact that comes with exercising on land.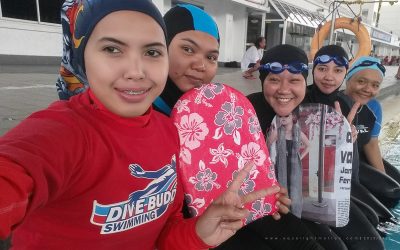 WOMEN ONLY ADULT SWIM LESSONS
This class will be run with the same curriculum as other adult swim lessons but with women only including a female instructor to allow more participants with religious restrictions.
read more