Category: Education
YOUR DIVE & SWIM EDUCATION STARTS HERE
LEARN & DISCOVER THE AQUATIC WORLD. GIVE YOU AND YOUR LOVE ONES THE SKILL TO CONQUER 100% OF THE WORLD.
Dive Buddy (Malaysia) is the provider of swim and scuba training and experience-based adventures for youth and adults. Our courses enrich lives through challenging and personally rewarding activities and the confidence gained through quality education.
Our facility was custom designed to provide the perfect learning environment. You are invited to seek a new challenge, learn to swim or scuba dive, travel to a new destination, or learn an advanced diving skill. Our courses change lives and provide new perspective.
We hope that you will share our passion for the aquatic world and our desire to protect the oceans for future generations. Many of our students have been inspired to make a career change. Our swim and scuba instructor trainers can even certify you to teach and share the aquatic realm with others.
Learn SCUBA Diving. Get Your PADI Here
Imagine exploring a beautiful world surrounded by brightly colored corals and fish. You hover weightlessly underwater and swimming underwater in three dimensions. By learning to SCUBA dive, you learn how to explore a new world that is visited by only a few select people. The experiences are memorable and last a lifetime. Just ask any diver who has traveled the globe's aquatic spaces.
THE WAY THE WORLD LEARNS TO DIVE
Welcome to the world most popular dive certification agency
The letters PADI stand for the Professional Association of Diving Instructors. Established in 1966, PADI is the largest and most popular scuba training organization in the world. Approximately 70% of the divers certified each year in the United States are certified as PADI divers. Over 13 million divers have been trained using the PADI educational system of diving. Needless to say, the PADI system is tried and true.
Experience Program

Openwater Courses

PADI Specialty Course

Go Pro Courses
Pre School Swim Lesson Video
Latest
Inline with our vision to provide a complete experience, we have also introduced swimming lessons into our education program. Swimming is one of the most essential and useful life skills everyone should have. This will help you to enhance your water confidence level and will further enable you the freedom to participate in water sports such as kayaking, snorkeling, freediving or scuba diving. Learn to swim and discover the aquatic world. Give YOU and your LOVE ONES the skills to conquer 100% of the world. Including the 71% covered by water.
Swim Lessons

Swim Events

Swim class timetable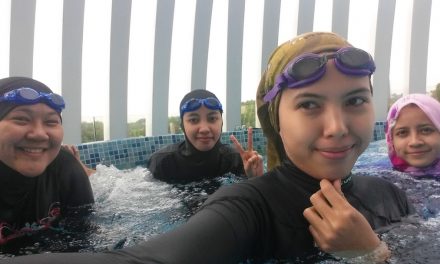 WOMEN ONLY ADULT SWIM LESSONS This class will be run with the same curriculum as other adult swim lessons but with women only including a female instructor to allow more participants with religious restrictions.
Hi and thank you for visiting our page. Our pages are currently under construction. Kindly please check again later for latest updates. Meanwhile please visit our other pages for related information. All Events Parent & Child...